Health Click Away is based on Non-Diet approach,
which encourages Mindful Eating.

Get Answers to the Why's &
How's of losing weight

Restyle Your Life & Transform
Your Health.

Lose Weight, Earn Cash &
Stay on Track.

Go Above & Beyond Calorie Counting,
Enjoy your food & still lose weight.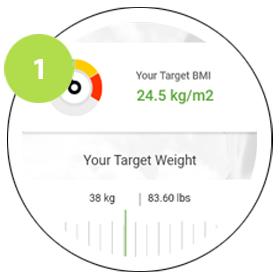 SET A GOAL
Select a diet type according to your preference by using our smart evaluation tool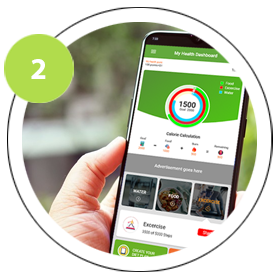 TRACK YOUR PROGRESS
We help you to adopt healthy lifestyle changes with the help of Artificial intelligence (AI)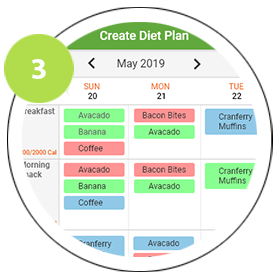 STAY MOTIVATED
Follow simple steps to lose weight & we reward you on every step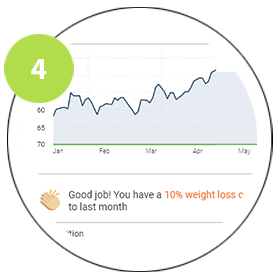 HIT YOUR GOALS
Whether it's losing weight, toning up, muscle gain or getting six-pack abs
Our motto is "Discipline Is Health". Achieve your Health and Fitness goals, step by step, through Artificial Intelligence(AI).

Fast and Easy 
Fitness Tracking
The app's intuitive interface allows you to navigate your health goals with absolute ease, making food log & fitness tracking a breeze!

Have Fitness Experts 
on Your Side
All advice and recommendations are crafted by nutrition and fitness experts. And, you have access to them even with Health Click Away basic plan for FREE.

Track 60+ Nutrients
for 500,000+ foods
Know what's in your food, understand calorie count, nutritional info, and portion size to make healthy eating a norm in your lifestyle.

Health Community
for guidance, tips, and support
Tap into Health Click Away fitness community for guidance, tips, and support 24/7. Be inspired and inspire others to make fitness an ongoing conversation in your life.

Find, Create, and 
Share Healthy Recipes
Discover easy, low-calorie recipes and make healthy switches. Create your own recipes and share them with our community to earn cash in health points!

Built in help anywhere
Health Click Away Support Team
With Health Click Away support team, technical help is always available, anywhere. So you never get stuck using the app, no matter what!
Lost 7 lbs in a month – Health Click Away is the best health and fitness app because it helped me lose my weight without any dieting. I highly recommend Health Click Away to everyone who wants to be healthy but dislikes dieting.

Health Click Away has helped me change my lifestyle completely. My lifestyle had become unhealthy since I started working. But now I am able to have my meals on time, eat healthy and I feel more active and energetic. A big thanks to Health Click Away!

Thanks, Health Click Away, for helping me lose 10 lbs in 2 months, which I was longing for the past 7 years, after my delivery. The best part is it is sustainable. So happy for my body now.

Health Click Away is so easy going and helpful in maintaining a healthy lifestyle at my terms. I am doing it and enjoying it thoroughly. Thanks, Health Click Away, for being my health companion.

I was tired of trying different health apps but of no help. Thanks to Health Click Away for giving the best experience of becoming healthy in the most natural way. I have lost 19 pounds since Jan 2020 and so much satisfied with my health journey.

I used to think about food all the time because I was starving myself to lose weight. But thanks to Health Click Away for saving me from this myth. Here I am eating more than ever before and still losing weight. Since Feb 2020, I have lost 20 pounds, and it's sustainable. I definitely recommend this to everyone.

I am feeling thankful that I joined Health Click Away at the right time. I have lost 17pounds in 2.5 months even while staying home in this COVID-19. When there is not much physical activity, I count my steps through Health Click Away and burn my calories. Enjoying this way of weight loss with minimum efforts.

I was on supplements to lose weight and was not doing any good to my body. I developed severe allergies due to those Pills, but I am thankful to my friend who suggested me about Health Click Away. I have lost 17 lbs since Feb 2020, just by being myself in my routine life. I need not add or change anything to stay healthy. Thanks, Health Click Away, for teaching me how to live a healthy life.

Down 10 pounds in just 2 months, my old clothes are getting fit. This feeling is the best. I am feeling so confident about my body. I still want to lose 6 pounds more to reach my old college days looks. Thanks, Health Click Away for this relief.

Since I joined Health Click Away, I have stopped blaming myself for eating food. Now I eat guilt-free and enjoying my favorite food. Thanks, Health Click Away, for liberating me to eat food, still lose weight. I have lost 23 lbs since Jan 2020.

I never realized the importance of drinking enough water, that was lacking in my health routine. Thanks to Health Click Away for incorporating this habit of regular water intake, through sending smart notifications. My skin is blessing me for hydrating my body.

I am at my lowest weight for the last 17 years. My husband is so happy to see me happy in this new body. I lost 16 lbs in 3 months. Thanks, Health Click Away, for making me feel more energetic and healthier than ever before.